The dates have been set for Beef week Australia in Rockhampton in 2018.  This huge cattle event will run from the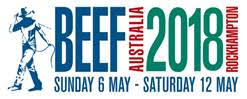 6th – 12th of May 2018.
The organizers are calling for nominations for Judges and associate judge to be submitted for consideration.  They would also like to be advised of anyone interested in sponsoring a cattle class or acting as a steward on the day.
Is anyone interested in the above positions?  If so please see the attached PDF files.
If you are wishing to attend Beef week with cattle please advise your Australian Salers State Board representative urgently so appropriate paper work can be put into place.
Your board members are –
Vic                Peter Rodgers                   0408 330198
NSW            Kathy Gardner                  0427 505 882
WA              Alan Penfold                      0428 335 355
SA                Roz Curtis                           08-87268162
QLD            Michael Manley                 07-46622700
For more general information about Beef Week Australia keep an eye on their web site. http://beefaustralia.com.au/