Cara Park Salers has finished another successful year in the LSE show circuit.
The 2017 Cara Park show results are an impressive list of placings when you consider the size of their show team, which consisted of 2 females and 1 male.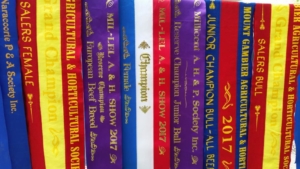 The first show was at Mil-lel where Cara Park Molly took out Champion Senior Female and then she went on to win Reserve Champion – all European beef breeds.
Naracoorte show was a week later with wins in the Euro heifer 18 months and under 21 months, 1st Cara Park Molly and 2nd Cara Park Mikayla.  Cara Park Mate-It took out 1st place in the Euro Bull 18 months and under 21 months.
Mt Gambier show followed on very quickly with Junior and Grand Champion Salers Female being awarded to Cara Park Molly.  Cara Park Mate-It was sashed Grand Champion Salers Bull.  Late in the day Cara Park Mate-It was awarded Inter Breed Junior Champion Bull against a large cross section of beef breeds.
After a weeks break Cara Park Salers went to the Millicent show where Cara Park Molly was placed 3rd in the Euro breed Heifer 18-21 months and Cara Park Mate –It was placed 1st in the Euro breed Bull 18-21 months.  Cara Park Mate-It continued on to take out Reserve Junior Champion bull all Breeds only to be beaten by the Senior Champion bull who went on to be sashed Supreme exhibit.
For the last show of the season Cara Park Salers went to Casterton where they continued to place in the individual classes and were placed second in the pair of heifers with Cara Park Molly and Mikayla.