This years' AGM was hosted by Victoria with visits to 4 different Salers operations over the weekend of November 18-19th. Members arrived on Friday night at the Airport Tourist Village, a short taxi ride from Tullamarine airport, from WA, QLD, SA, NSW, TAS and VIC.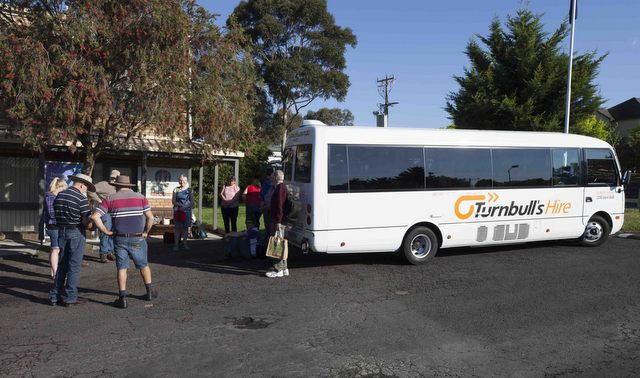 The 25-seater bus departed Airport Tourist Village 8:30am, ably driven by Neil Gardner. First stop was Ray-MondeDeux near Sunbury, where we were met by John and Trista Lakey.
John took the group on a short farm walk while explaining the mixed business model for Ray-Monde Deux, which includes cattle, sheep, goats and a vineyard. The overall goal is to generate quality farm products, employing environmentally sound farming practices and targeting a niche market that is interested in knowing about the origins of their food. Along with other produce, John and Tristia produce free range pasture-fed Salers beef fed on native pastures and grasses, 30-36 months of age.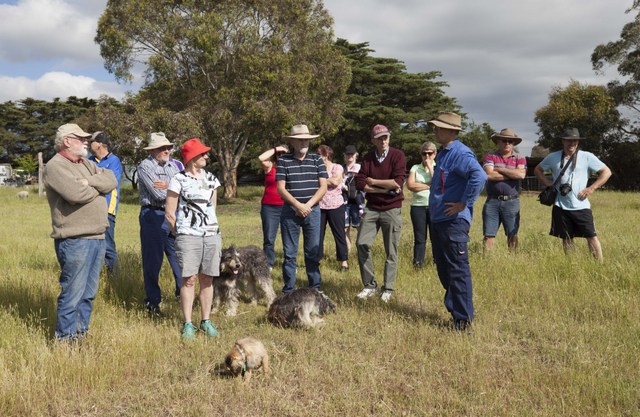 They currently have most of their small herd of 14 Salers breeders at another property at Bacchus Marsh. Salers meat has generous marbling, and is marketed as 'The French Wagyu'. John and Tristia sell to restaurants in bulk cuts, half or full carcass quantities. Dry-aging is available on request. Their motto is happy, healthy and humane! The visit to Ray-MondeDeux stimulated a good deal of conversation about vertical integration in the beef industry, and opportunities and challenges for marketing Salers as a niche product to butchers, restaurants and the general public.
After morning tea with fresh scones, jam and cream, we departed Ray-MondeDeux for Knowsley Salers, at Derrinal, to be met by Frank Hill. After providing an excellent BBQ lunch Frank gave us a short talk on the fascinating history of of Knowsley Park followed by a tour of his 2 properties.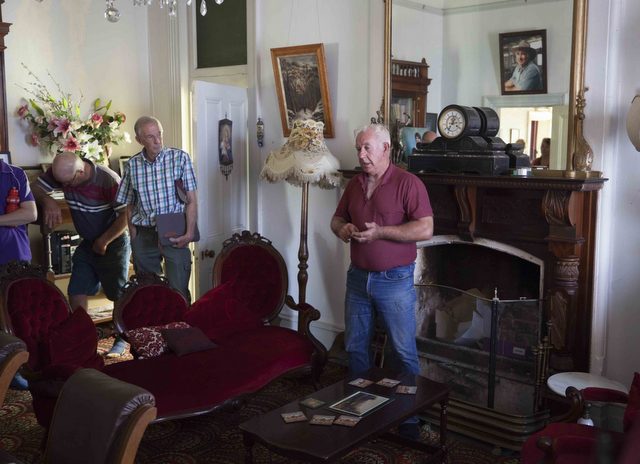 Frank is a commercial breeder who runs a mixed livestock business that includes 400 Salers breeders on a 4000 acre property near Derrinal in Victoria. The business also runs 800 ewes and a Limousin Stud. As a commercial operation Frank has identified Salers as the most profitable cattle breed available, with fertility, calving ease and feed conversion as the key parameters of importance. Frank also selects for larger animals (frame size 8-10) with a big pelvis. Calves are sold at 9 months and retained heifers are joined at the same age. Most significant reason for having Salers is profitability.
Frank started in 1970 with Shorthorns and Herefords, with his first 2 Salers bulls arriving in 1993. Since that time he has invested more heavily in Salers after running informative performance comparisons against other breeds. He has found that Salers and Salers cross mothers are able to successfully get in calf and deliver a live calf at a younger age than other breeds, and that the offspring show better weight gain than other breeds.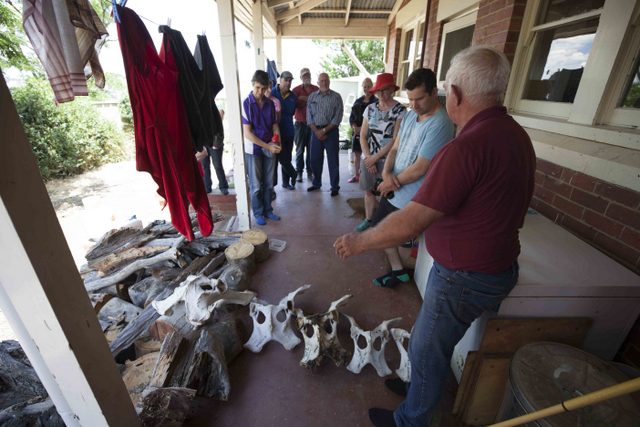 Frank showed the group a collection of pelvic bones from different cattle which he used to demonstrate the increased pelvic width that Salers have over other breeds, which is a major factor in their ability to calving easily.
We left Knowsley Salers at 4:00pm to get back to the Airport Tourist Village in time for a short break before the Australian Salers Association AGM at 6:30pm. The AGM was followed by dinner at the nearby Best Western Airport Motel.
On Sunday morning the bus departed Airport Tourist Village at 8:00am to arrive at Reg and Anne Mickelborough's, Scattered Gums stud at Corinella Vic by 9:30am.
Reg and Anne run a Salers Stud with about 35 breeders on 80 acres. Reg started with Salers in the 1980's after experiencing calving problems in other breeds in a situation where no one lived on the property with the cattle. Reg's breeding strategy has been focussed towards easy going quiet animals that are early developers suitable for the vealer market.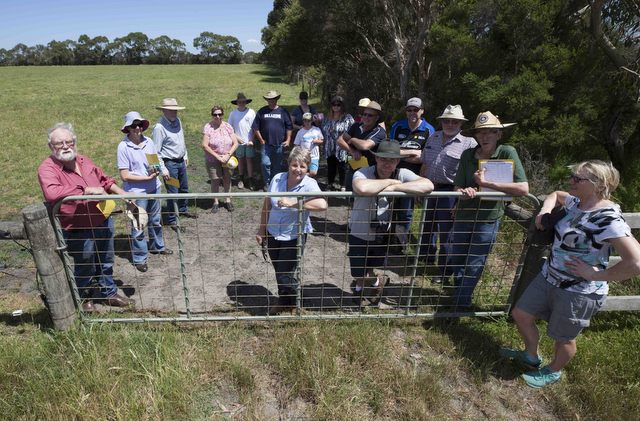 Scattered Gums has also had significant past successes in the show ring and in carcass competitions. Reg and Anne are now experiencing an emerging market for Salers females as breeders. Most significant reason for having Salers is calving ease in an operation where cattle calve without anyone living on the property.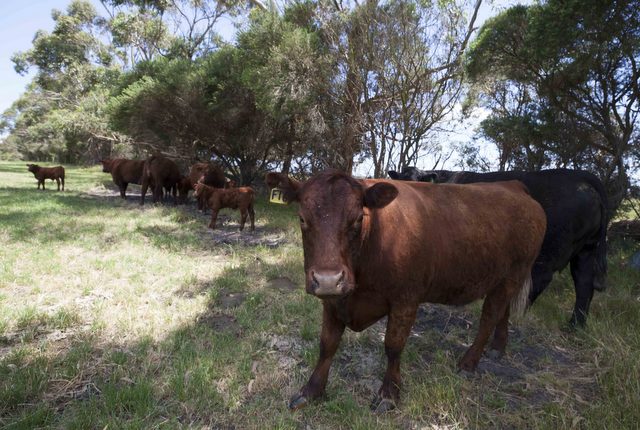 The bus left Scattered Gums at 12:00 noon for the short trip down the South Gippsland Highway to Salco Partners at Lang Lang. Lunch and Cattle viewing
Peter and Cheryl run a Salers Stud with 120 registered breeders on 320 acres. Salco started with the importation of 5 Salers heifers from France in 1988 and has invested significantly in sourcing genetics from top French and New Zealand bloodlines through regular AI programs.
Our breeding strategy has been focussed towards commercial attributes including a live calf every year, docility, polling and growth rates. We use Breed Plan to assist with selection for low birth weight, maternal milk and growth rates. Most significant reason for having Salers is calving ease in an operation where cattle calve without supervision.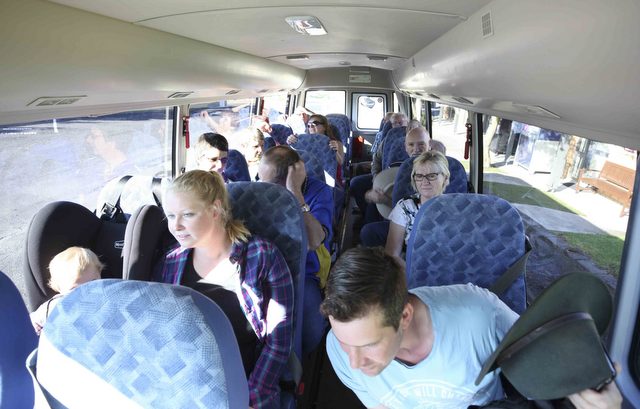 The last leg of the weekend was the trip from Salco Partners back to Melbourne on Sunday afternoon, where a number of members stayed for another night to continue discussions about Salers and the meaning of life!